Location:
The National Reference Centre for Vocational Training in Cartagena, is located on Goya st. at San Felix District.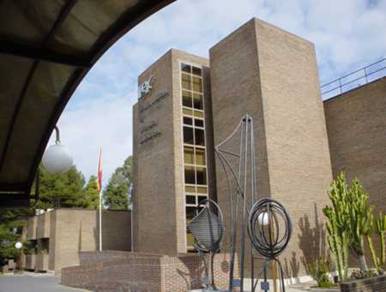 Entry into operation:
The Centre started its activities gradually in different teaching areas from 1983, as a Permanent Centre for Vocational-Occupational Training. In 1993, with the entry into force of Royal Decree 631/1993 of May 3rd., which regulates the National Plan for Training and Insertion, is integrated into the network of National Vocational-Occupational Training Centres in Chemical Industry training areas and Business Services: Quality Control.
Facilities:
It has the following allocations of equipment in classrooms, workshops and laboratories:
Non-Destructive Testing: Radiology and Industrial Gammagraphy.
Non-Destructive Testing, Penetrant Testing and Magnetic Particle Testing.
Non-Destructive Testing: Ultrasounds, Eddy Current.
Mechanical Testing, with annex of Metallographic Analysis.
Instrumental Chemical Analyst.
Chemical Laboratory Analyst.
Microbiological and Biotechnological Analyst.
Auxiliary Techniques in Engineering: workshop, pilot plants and simulators.
Welding Specials.
Electro-Oleo-Pneumatic Automata and PLCs.
Topography.
Languages.
Trainers´ Training.
Office Computer Applications.
Computer Communications.
Mediatheque.
Applications for Computing Management.
CAD.
Formative Coverage:
The Centre is able to offer training at a high content technical level, in the following areas:
Area of Chemistry: Chemical Laboratory Assistant. Wastewater Analyst. Food analyst. Instrumental Chemical Analyst. Laboratory Analyst. Chemical Plant Operator. Treatment Plant Operator of Hazardous Waste. Industrial instrumentalist. Microbiological Analyst.

Area of Non-Destructive Testing (Levels 1 and 2): Penetrant Testing (PT), Magnetic Particle Testing (MT), Ultrasounds (UT), Eddy Currents and Industrial Radiology (RT). Radioactive Facility Operator. Weld Inspection Work. Visual inspection.

Area of Mechanical Testing: Testing: Tension and Compression, Bending, breakage and Resilience. Metallographic analysis.

Area of Automation: Electrical Industrial Process Automatist. Technical mechanisms and pneumatic devices. Mechanisms and Hydraulics Devices Technician. Oleo-Pneumatic Facilities Maintenance Technician. Logic Pneumatics.

Area of Languages: Business English, Chemical Industry Technician, Customer Care, Quality Control Technician.

Area of Welding & Metallic Structures: Electric Welding. Certified Welder (ASME and UNE). Welding Specials. Aluminum Welder, Stainless Steel.

Applied Computers area: Desktop Publishing. Desktop Publishing and Design of Audio Visual Applications. Desktop Publishing and Computer Advertising Design. Photo Retouching and Laboratory Management. Applications for Management. Office Computer Applications. Computerized Accounting. Computerized Business Management. Database Manager. Microcomputer Technician. Telematic Systems. Telematic Services. Communication and local networks. Information Highways: Infoway, Internet.

Area of Teaching and Research: Occupational Trainer. Teaching Methodology. Educational Media Design.

CAD: Computer Aided Design Level 1 and 2. Electronic CAD-CAE. Digital Topography. Computer Aided Drafting.

Area of Engineering Aided Techniques: Assistant Surveying Technician. Electronic Topographic Technician. Industrial Computerized topography.

Area of Polymer Processing: Processing operations of thermoplastic polymers, Organization and Control of Transformation Thermoplastic Polymers.

Area of Pharmachemistry: Development of Pharmaceutical and Allied.
For further information: Phone: 968 51 82 10. Fax: 968 51 44 01. e-mail: sef-cnfo@listas.carm.es
Contenidos Asociados: